E-CLab, a physical and virtual space for sharing ideas and skills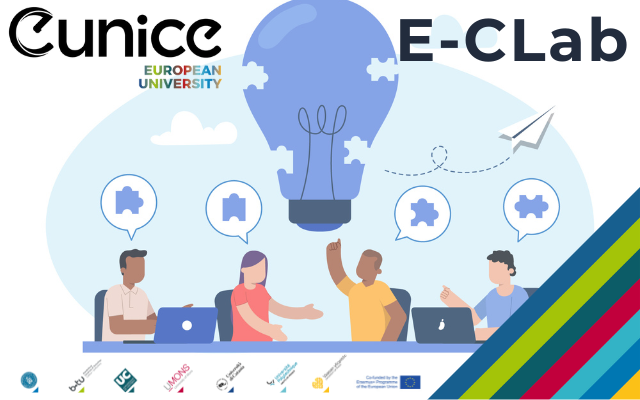 E-CLab - the EUNICE Contamination Lab - is designed as network-wide implementation of "Contamination Lab Catania", and consists of free educational activities (workshops and seminars) with the aim of stimulating brainstorming on innovation, enabling technologies and start-ups, encouraging knowledge sharing and interdisciplinarity, and supporting the developmentof project ideas.
The E-CLab on-line laboratory will be devoted to experience team working and coordination in an interdisciplinary and multicultural team, and to practically experience the challenges of generating an idea and developing it into a feasible project. The students will learn "by doing" a lean methodology to validate an idea and its entrepreneurial potential.
E-CLab will bring together the talent of university students in the alliance, through an innovative and informal teaching approach: from the first day of the enrollment the students, with the support of designated mentors from the Eunice alliance Universities , will be stimulated to propose the activities and ideas that will give life to the project,  and can eventually result in proposals for commercialisation of R&D results (e.g. licencing/patenting), academic entrepreneurship (e.g.spin-offs) and student entrepreneurship (e.g. start-ups).
E-CLab will consists of a series of 10 online workshops to be held between end of March and May, plus a 1-week Summer School in presence to be organised at the seat of UNICT at the end of June 2023, with a physical space for the contamination within the University Departments/Faculties/Schools and associated entities (research labs, companies) and the winning teams. All these activities will be integrated into the Degree courses through the recognition of ECTS and the issuing of certifications. The students of the top teams identified in the final event of the E-CLab  will have individual support and travel costs covered for the summer school in Catania.
In short, the goals are:
Develop creativity and innovation capabilities
Develop «soft skills»
Carry out Interdisciplinary team-work
Being able to transform an idea into a project with an entrepreneurial vocation
These goals will be achieved:
With the help of an external company specialized in innovation
With the help of a partnership of local small medium and large companies
With the help of a network to facilitate the students' access to expertise and resources
The programme will start in March 2023 and will consist of 10 workshops that will be run, in turn, by the participating Universities and by companies specialized on innovation:
Idea generation
Contamination event and testimonials
"Lean Methodology": Problem Validation & Problem Solution Fit
"Lean Methodology": Business Model Canvas
"Lean Methodology" Competitor & Market Size
Idea challenging
Soft skills
"Lean Methodology" Customer Acquisition & Product Market Fit
Financials and Business plan
Preparing the elevator Pitch
Final event: Jury evaluation of the developed the ideas.
The students' selection and teams' creation processes will take place and will be completed between January and February 2023. Stay tuned to EUNICE channels for up-to-date information on the call!
About EUNICE
EUNICE, the European University for Customised Education, is designed to solve social and economic challenges, both globally and locally. In 2020, EUNICE was selected during the second call for pilot projects of European Universities of the European Commission. The alliance is nurtured by ten universities' intellectual and infrastructure input –Poznań University of Technology (Poland), Brandenburg University of Technology (Germany), University of Cantabria (Spain), University of Mons (Belgium), University of Catania (Italy), Université Polytechnique Hauts-de-France (France), University of Vaasa (Finland), Polytechnic Institute of Viseu (Portugal), University of Peloponnese (Greece) and University of Karlstad (Sweden)–.
This alliance, born from the European Universities initiative and funded by the European Commission, is building a solid network of interactions between educational institutions and other agents to work on social and economic challenges.
Useful links