Administrative Offices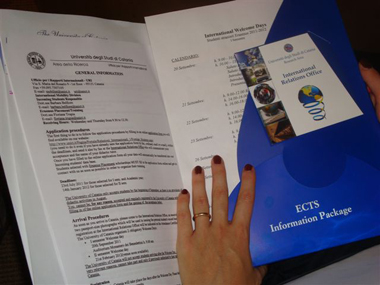 The International Relations Office contributes to the enhancement of the University of Catania international dimension.
It prominently collaborates with other strategic Divisions, such as Didactic Division, Research Division and School of Excellence, with the objective to strengthen the Internationalization process as a focus development point of the University of Catania.
In particular:
it increases the number of cooperation agreements with foreign universities in order to enhance incoming and outgoing mobility at all levels for students, postgraduates, professors and administrative staff;
it coordinates the participation to mobility and cooperation international projects;
it supports professors interested in submitting proposals within EU and International funding programmes;
it administrates the University of Catania participation to Higher Education and Research International networks such as EPUF, SANTANDER Group and Anna Lindh Foundation, also running the EMUNI Summer School and Souk.
The office is organised into two units operating in synergy according to the above mentioned objectives: International Mobility and International Cooperation.
International Mobility
It deals with the main European and Extra-European programmes for students, post-graduates, professors and administrative staff:
it manages the Erasmus action, granting university students with scholarships in order to attend university courses abroad or to do research for their final paper;
it coordinates the main programmes dealing with professional training periods for students and graduates in companies and institutions abroad;
it is in charge of the Erasmus Teaching Mobility action, allowing professors to spend teaching periods in a partner institution with a financial support by the EU;
it welcomes foreign incoming students and professors and organizes training weeks for foreign administrative staff.
This actions are implemented through the programmes below:
LLP Erasmus Studio
LLP Student Placement
LLP Leonardo da Vinci
LLP Erasmus Teaching Mobility
MAE-CRUI and ASSOCAMERE-CRUI training programmes
International Internship Programme
Vulcanus in Japan
Free Training Mobility
International Cooperation
It deals with scientific coperation agreements with foreign Universities. It also provides expert guidance and assistance to academics interested in presenting project proposals within European, international and national cooperation programmes promoting didactics and research actions.
In particular, it is in charge of:
education and training programmes promoted by EACEA (Culture, Europe for Citizens, Youth in Action, Erasmus Mundus, Tempus IV, Media, EU-ICI ECP and some LLP actions);
external cooperation programmes promoted by European Commission (EUROPEAID for Mediterranean, China, India and Latin America);
international cooperation national programmes promoted by CRUI, MIUR e MAE.
Every year the unit elaborates the ECTS International Prospectus (Information Package) and offers consulting services on post-lauream specialization programmes and internship in USA. Finally, it organizes international events and summer schools.